0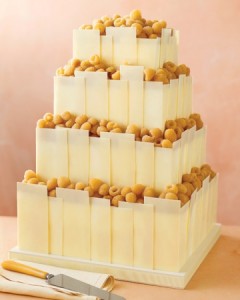 This cake is an amazing architectural masterpiece – four tiers of cake surrounded by white chocolate panels and topped with golden raspberries. And the biggest surprise is that this cake can be a DIY project!
The cake can be purchased frosted but undecorated from your local bakery (or if you're really ambitious, you could make the cake). The chocolate panels can be ordered from Christopher Norman Chocolates in New York City or you could make your own panels using high quality chocolate. Then it's a matter of assembling the cake by arranging the chocolate panels to the sides of the cake. And if golden raspberries aren't your favorite fruit, consider strawberries, red raspberries, or even small flowers as the decor.
This cake would be a stunning centerpiece at any wedding. We found the cake in the pages of Martha Stewart Weddings.
Read More:
cakes with fresh fruit
,
chocolate panels
,
diy wedding cakes
,
golden raspberries
,
white wedding cake