0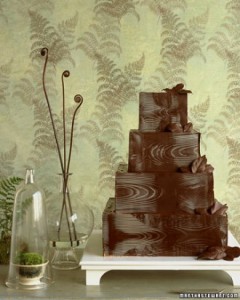 We're getting closer to Halloween which means the store shelves are stocked with all kinds of chocolate. And that's not a bad thing in my opinion!
Fall seems like the perfect time to have a chocolate wedding cake – especially one that is frosted with deep, rich chocolate icing.
I'm particularly fond of today's chocolate cake thanks to the rustic vibe the icing gives off.
Look closely and you'll notice that the cake is decorated with chocolate panels that feature "faux bois" designs. (That's French for "fake wood"..in case you were wondering).
The chocolate panels are carved with a wood graining tool and then they're placed over the chocolate icing on the cake and voila! You have a cake that looks like "wood" but tastes amazing. This would be perfect for your rustic fall wedding.
You could add a pop of color to the cake with small, fresh fall flowers .. but it's kind of perfect just the way it is.
You can find this fall-inspired wedding cake here.
Read More:
chocolate wedding cakes
,
fall wedding cakes
,
Rustic Wedding Cakes