0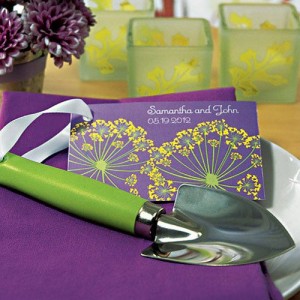 Perhaps at first glance you're thinking "why would I want to give my guests a garden shovel as a favor?"
And I'll admit that was my first reaction too. But then I thought about the novelty of this favor and how many ways you could make it a really fun (and useful) gift for your guests…and I had to change my mind.
There are so many options for this favor. If you and your significant other are outdoorsy, gardening kind of people this a perfect favor for your guests.
Or, if you're having an outdoor wedding, these shovels could fit in with the decor. You might even consider adding flower pots filled with fresh blooms to the decorations.
If you're a nature lover, you could combine these fully functional shovels with seed packets or small plants and give your guests a little help with their summer planting.
The possibilities are endless! This is a wonderfully fun favor for your spring or summer wedding!
You can find these mini garden shovels here.
Read More:
fun wedding favors
,
gardening
,
seeds as wedding favors
,
shovels
,
spring wedding favors
,
spring weddings
,
summer wedding favors
,
summer weddings