0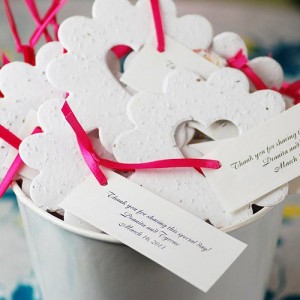 Everything is finally blooming around here and I'm in the mood to plant flowers!
Which got me thinking – I bet the guests and your spring and summer weddings want to plant flowers too.
And that brought me to today's fun wedding favor – plantable seed favors!
These "bucket of love plantable seed favors" are actually buckets filled with plantable seed papers that are shaped like flowers that have heart-shaped centers.
Since they come in a bucket there's no need for you to have the passed out to each table – guests can simply pick up a plantable seed paper flower on their way in or out of the reception.
And, if you pair the seed paper with these adorable mini garden shovels you'll have a totally fun and seasonal wedding favor!
The seed paper comes in several different colors including white, lavender, pink, blue, yellow, or green. Each flower is personalized with a ribbon and custom-printed tag.
Once your guests arrive home they just need to plant the paper in soil and water it and soon they'll have a lovely area of wild flowers in their yard or garden pot. What a fun way to remember your wedding all season long!
The buckets of seed favors come in two sizes (100 count and 50 count) and you can find more info here!
Read More:
flowers
,
fun wedding favors
,
garden wedding favors
,
plantable wedding favors
,
seed packets as wedding favors
,
spring weddings
,
summer weddings