0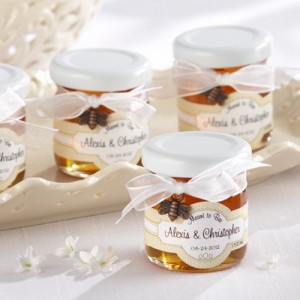 In my search for all things spring I happened upon these cute (and very sweet) personalized jars of honey and I just had to share them!
Now when one thinks of wedding favors for your guests I'm guessing jars of honey might not be at the top of the list. Which is why these are absolutely perfect! No one would expect to get a jar of gourmet clover honey at a wedding reception.
It's a sweet surprise for sure!
There are a couple of things I love about these favors – aside from the honey of course. First, look closely at the label. It says "Meant to Bee" which is kind of adorable. And you can personalize the rest of the label with your names and the date of your wedding. Next, the jars are adorned with organza ribbon and a miniature bee charm.
This is one of my favorite wedding favors for this year. And as a fan of honey, I would love to see these as a favor at a spring or summer wedding!
You can find the personalized honey jars here.
Read More:
fun wedding favors
,
honey
,
honey bee
,
honey wedding favors
,
personalized wedding favors
,
wedding favors