0
Posted on October 17, 2014 by Traci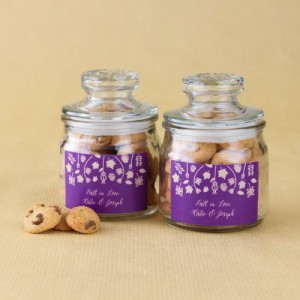 When it comes to wedding favors I say the more whimsical the better. It's a party favor so why not have fun with it?
Take for example these mini cookie jars. They're fun and functional. And they would be perfect for your fun wedding reception.
The mini cookie jars can be filled with anything you want – miniature cookies, brownie bites, candy, or even coffee beans.
And, you can also get the jars personalized with three different options! You can choose a leaf motif (perfect for a fall wedding!), a colored label that you can pick to match your wedding colors, or my personal favorite – the "state love" option.
This personalization option feature your home state with a heart in the middle and the names of you and your betrothed. So cute!
You can find these cookie jars here.
Other Posts You May Enjoy:
Read More:
fun wedding favors
,
mini cookie jars
,
mini wedding accessories
,
personalized wedding favors
Recent Posts