0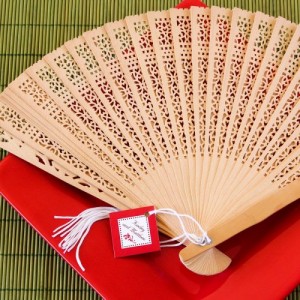 We've all been there. You're a guest at an outdoor wedding in the middle of the summer and it's hot and you're melting in your seat.
Out of desperation (and perspiration) you start using your smart phone or purse as a fan, wishing you had a real fan instead.
Well, wouldn't it be nice to give your guests a way to keep cool and look cool at the same time? That's where these very cute and very functional sandalwood fans come into play!
These fans are made from natural wood and are carved with an intricate design – and they're perfect for cooling off at your outdoor summer wedding! The fans feature a white tassel and can also be personalized with a custom label.
They're such a great favor idea, and your guests will thank you!
You can find the fans here.
Read More:
fans
,
fans as wedding favors
,
fun wedding favors
,
outdoor wedding favors
,
outdoor weddings
,
summer wedding
,
summer wedding favors