0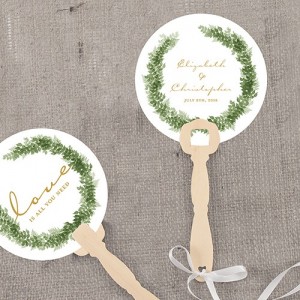 Summer means warm temps and humidity and if you're planning an outdoor wedding you want to make sure your guests keep cool.
The easiest (and most fun) way to ensure cool guests is to provide them with some stylish hand fans.
These "love wreath" hand fans can be placed in a lovely basket at the ceremony location (and the reception if that's outside too) and guests can grab one before they're seated.
And they're so pretty and elegant that they'll look good in crowd photos too!
They're also smallish (5 inches diameter) so they won't detract from the elegance of your big day.
You'll find these fun and functional hand fans here.
Read More:
fun wedding favors
,
hand fans
,
summertime favors
,
wedding favors