0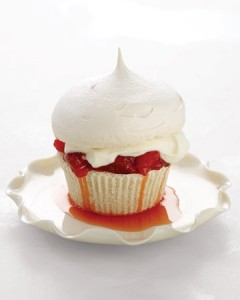 One of my favorite summer desserts is strawberry shortcake.
But I really just like the strawberries and whipped cream components of the dessert.
So when I saw this strawberry meringue cupcake I just knew I had to share it with you!
Your guests might think they're getting a strawberry cupcake, but they're in for a surprise.
This dessert is actually a meringue that has been sliced in half and filled with a strawberry-rhubarb filling. And it's all topped with whipped cream and the top of the meringue.
Strawberry desserts would be perfect for your summer wedding – they really are the perfect summer fruit. And these "cupcakes" would be a delicious surprise for your guests. You could even serve them as an alternative to your wedding cake.
You can find these meringue cupcakes here.
Read More:
cupcakes
,
meringue cupcake
,
strawberries
,
summer wedding cakes