cupcakes
0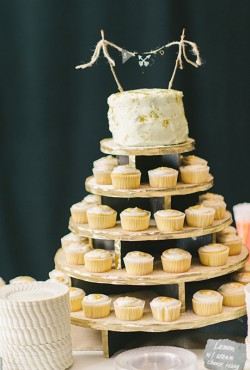 I love cupcakes. And if given the chance I'd serve cupcakes at every celebration I host, including a wedding reception.
Sadly, when I was married all those years ago the wedding cupcake trend hadn't happened yet.
But now that cupcakes are all the rage, it is the perfect time to add some cupcake fun to your reception dessert table!
I love the idea in today's featured cake photo – a small wedding cake (for the newlyweds) and cupcakes for all the guests. You could have so much fun with this concept – think of the flavors you could have with those cupcakes!
You could choose seasonal flavors, classics like white and chocolate, and even fan favorites like red velvet (my all-time favorite cake flavor).
And to add even more deliciousness to the party, make sure you have cute take-home boxes and enough cupcakes for you guests to take one for the road.
You'll find this cupcake and cake tower here.