0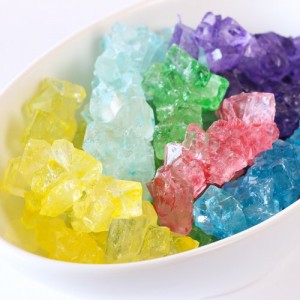 I love the idea of setting up a candy bar at your wedding reception!
It's been one of my favorite ideas for wedding planning ever since I had a chance to fill up cute little Chinese takeout boxes at a wedding candy bar.
Think about it – instead of sending your guests home with a favor that they might not love, why not send them home with a box full of sweets?
It's pure genius.
And I think every wedding reception candy bar should have a bowl of rock candy. There is something so fun and nostalgic and whimsical about rock candy. It's pure sugar which makes it awesome by candy standards. And, if you can find it in jeweled tones like the candy I'm featuring today that makes it even better!
For the rest of the candy bar pick out wedding standards like Jordan almonds and mix in fun items like saltwater taffy, licorice, and even little chocolate kisses.
You can find this pretty rock candy here, along with other wedding candy.
Read More:
candy
,
candy bar
,
fun wedding favors
,
wedding candy
,
wedding candy bar