0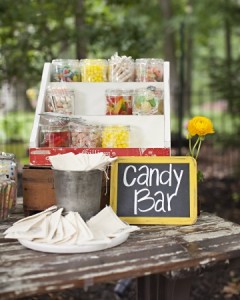 Everyone loves candy, right? My sweet tooth always wins in a battle of willpower. Which is why I absolutely LOVE the idea of a candy bar for wedding guests.
No. Not just one single candy bar. I'm talking about a bar full of candy.
Think about all the sweet options – rock candy, lemon candies, jelly beans, Jordan almonds, M&Ms in your wedding colors, gum drops. The sweet choices are endless. You can even find vintage candy online. The "candy bar" can be assembled with different size glass jars and then guests can pick and choose their favorites. Chinese take out containers are a super cute "take home" option, or you could use cute and colorful candy bags.
A word of caution with any candy bar – if your wedding is outside, keep the candy out of the sun and avoid all things chocolate, otherwise you might have a melted mess!
Read More:
candy bar at wedding
,
wedding diy
,
wedding favors