0
Posted on February 27, 2015 by Traci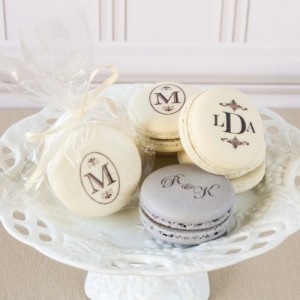 I'm a big fan of edible wedding favors because it's an easy way to make everyone happy. No one is going to pass up cookies or candy.
So imagine how happy I was to find these customized macarons!
These elegant cookies are available in 12 different colors and you can choose from five different border options plus four different designs.
Basically the sky is the limit when it comes to giving your guests a delicious favor!
The macarons can be personalized with your initials, a three-letter monogram, or even the cute "eat, drink, and be married" wording.
A word of caution – these favors aren't cheap and they have a shelf life of about one week so you'll need to order them JUST before the big day.
You can find the macarons here.
Other Posts You May Enjoy:
Read More:
cookies as favors
,
elegant wedding favors
,
fun wedding favors
,
macarons
,
personalized wedding favors
,
wedding favors
Recent Posts