0
Posted on April 11, 2014 by Traci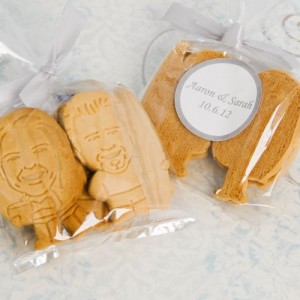 In my quest to find fun and unique wedding favors sometimes I find a favor that even I can't believe really exists.
Today's wedding favor falls into that category – customized cartoon cookies.
Now I've featured pretty wedding cookies and even bride and groom Oreos before, but cookies that are a cartoon version of the happy couple…that's a new one.
I love the idea of sending your guests home with an edible wedding favor. Sure non-edible favors are nice, but sometimes they aren't useful. But when it comes to food – especially cookies and candy – everyone loves gifts you can eat!
These vanilla flavored cookies are designed to look like a caricature of you and your spouse-to-be. All the company needs is a photo of the two of you and they do the rest!
The cookies are delivered in bunches of six in clear cellophane bags tied with a ribbon and sealed with a personalized seal. Your guests will definitely love these personalized favors!
You can find out more about the cartoon cookies here.
Other Posts You May Enjoy:
Read More:
cookie wedding favors
,
cookies as gifts
,
custom made cookies
,
fun wedding favors
,
personalized wedding favors
,
unique wedding favors
,
wedding cookies
,
wedding favors
,
wedding sugar cookies
Recent Posts