0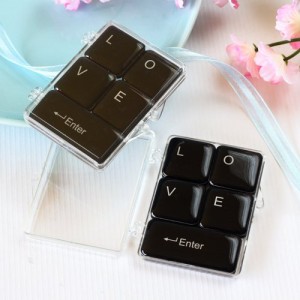 I'm a sucker for magnets. I buy at least one new magnet on every family vacation and you can barely see the front (or sides) of my refrigerator because it's covered in magnets.
So when I saw these "love" keyboard magnets I just had to share them with you!
Because not only do I love magnets, but I love keyboards – so this is really a win-win wedding favor.
Your guests will love this whimsical favor and it's something they can add to their fridge or message board and it will always remind them of your wedding day and how much fun they had!
Each magnet is packaged in a clear case so you could easily place one at each table setting at the reception! They're also not too expensive so you won't break the bank for a fun wedding favor.
You can find these love keyboard magnets here.
Read More:
fun wedding favors
,
love wedding favors
,
magnet wedding favors
,
magnets
,
whimsical wedding favors