0
Posted on April 3, 2015 by Traci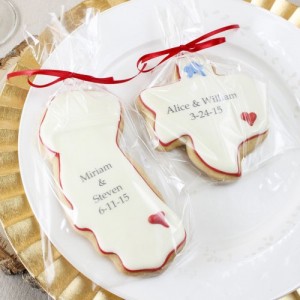 We all know that I'm a huge fan of edible wedding favors.
I think it's a great idea to send your guests home with a sweet treat, instead of a piece of wedding cake.
And these personalized cookies are a new favorite.
I give you the personalized state love cookie!
These handcrafted cookies are available in your home state shape – and if you're both from different states you can do that too!
Each cookie features the names of the couple in a font of your choice. And the state cookies also feature a red heart to symbolize your love of each other (and your state).
The cookies come individually wrapped so it's super easy for your guests to take them home.
You can find these personalized state love cookies here.
Other Posts You May Enjoy:
Read More:
edible wedding favors
,
personalized wedding favors
,
state cookies
,
wedding cookies
,
wedding favors
Recent Posts