0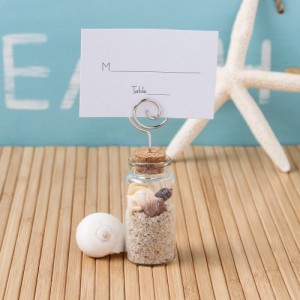 I love wedding favors that have some sort of personal touch. They show that you put some time and effort into the favor instead of just plunking some random thing on the guest tables.
Which brings me to today's fun wedding favor. I am loving this mini glass jars! They're the perfect place card holders and they're also really cute which makes them a win-win in the wedding favor category.
Imagine you're having a destination beach wedding. You could task your bridesmaids with collecting sand from the beach and filling the jars with that sand and just like that you have a perfect, personalized favor.
And with the cute cork card holder tops you can tell everyone where they need to sit at the beach reception.
If you aren't having a beach wedding you could always fill the jars with colored sand to match your wedding theme or even glitter (but that could get somewhat messy!). Other ideas are coffee beans, loose tea, or even small candies.
You can find these wedding favors here.
Read More:
beach weddings
,
candy
,
fun wedding favors
,
glass jar
,
personalized wedding favors
,
place card holders