0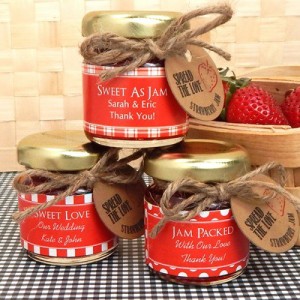 Sometimes when I'm searching for a fun wedding favor I find something so different that I have to wonder how it would fit into a wedding theme.
Today's favor is that kind of favor – personalized jars of jam.
Now don't get me wrong – I love edible wedding favors! That's why I was drawn to this particular breakfast-themed favor.
I also love toast with strawberry jam so if we're being totally honest this favor would be awesome for me!
I really do love the concept of these little jars of jam with the cute, personalized labels. They would be great if you were throwing a brunch reception. And everyone (OK, almost everyone) loves strawberry jam.
You can also choose from a few different labels so you can find something that fits the theme or color scheme of your wedding.
These would also be great if you're making up care packages for out-of-town guests! You could include the jars of jam, some local homemade biscuits or other baked goods, coffee, and tea and viola! – you have a great breakfast bag for your guests.
You can find these jars of jam here.
Read More:
fun wedding favors
,
jam
,
personalized wedding favors
,
winter wedding favors