0
Posted on June 5, 2015 by Traci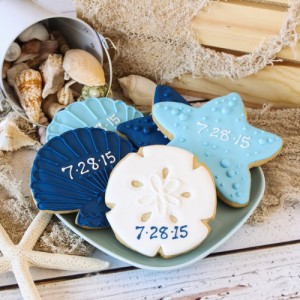 Today my brain is at the beach – most likely because I'm driving to the beach!
And so, for the Friday fun wedding favor today I give you seashell shaped cookies.
We all know how much I love edible wedding favors, especially when the favors are cookies.
And these seashell shaped cookies are my new favorite beach wedding favor.
The cookies are a standard butter cookie with a touch of almond flavoring and you can personalize the cookies in any way you'd like! (Plus there are many more shapes to choose from in addition to the seashells).
These wedding cookies are iced with royal icing, which gives them a bit of a crunch. Each cookie is also individually wrapped which makes it easy to leave them out for guests!
You can find these personalized seashell wedding cookies here.
Other Posts You May Enjoy:
Read More:
beach wedding favors
,
fun wedding favors
,
personalized wedding favors
,
seashell cookies
,
wedding cookies
Recent Posts