0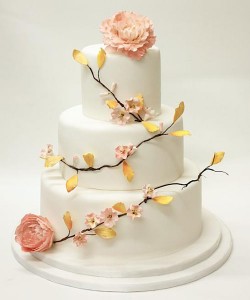 It seems like a good time to start dreaming about springtime wedding cakes adorned with gorgeous blooms.
Never-ending winter weather will do that to a girl, ya know?
I'm loving this wedding cakes thanks to its simple elegance and charm.
The three-tier white cake is pretty on its own but with the addition of the light pink flowers on thin stems the cake is transformed into a lovely springtime confection.
I love the contrast of the white icing, pink blooms, and dark stems – it is dramatic without being over-the-top.
This cake would be beautiful with other colors of flowers too if light pink or peach isn't your style.
You can find this cake here. It was created by LuLu Custom Cake Boutique.
Read More:
cakes with peach flowers
,
cakes with pink flowers
,
floral wedding cakes
,
flowers on wedding cakes
,
spring wedding cakes