0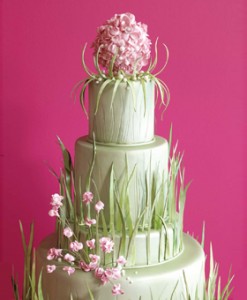 The great spring thaw of 2015 is happening right now in the northern half of the country and we're slowly starting to see hints of green(ish) grass under the melting snow!
Which got me thinking about springtime grass and flowers and everything starting to bloom. Which of course made me think about green wedding cakes with flowers. It's how my brain works.
Will you just look at this amazing wedding cake? Those are blades of "grass" made with gum paste! And the flowers are sugar flowers. The whole cake just screams spring wedding.
This cake would be so stunning at your springtime or early summer wedding. The light green fondant is gorgeous and the posy of sugar flowers is a beautiful cake toppers.
I'm so excited about spring and this lovely cake!
You can find this cake here. It was created by Just Cake.
Read More:
flowers on cakes
,
fondant
,
Green Wedding Cakes
,
gum paste
,
pink flowers on cakes
,
spring wedding cakes