0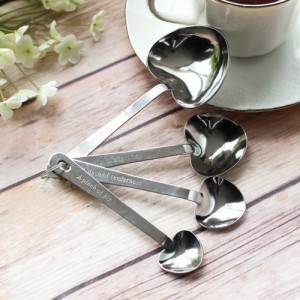 I love kitchen gadgets, which is why I had to share these super-cute (and useful) heart-shaped measuring spoons with you today!
These would be a fun wedding favor if you're a foodie, a chef, or if you're just looking to add something whimsical to your table decor. And if your "theme" is hearts … oh my good gravy! You've hit the jackpot!
I know I'm always looking for measuring spoons that are cute – and not ugly plastic – so these stainless steel spoons are my new favorite.
And if the heart shape wasn't cute enough…each spoon features a "clever and romantic" phrase too! Phrases include "a pinch of joy" and "a heap of tenderness."
Each set of spoons comes in a gift box so there's no assembly required.
You'll find these heart-shaped spoons here.
Read More:
cooking favors
,
fun wedding favors
,
heart shaped favors
,
measuring spoons
,
unique wedding favors