0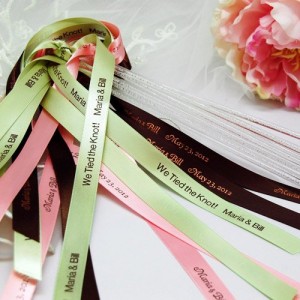 I'm always looking for something unique or different or just plain cool when it comes to wedding favors.
And today's find? Well I want to be invited to a wedding where the guests get light-up ribbon wands! How fun would that be?
Think about it: at the end of the night as the happy couple is getting ready to depart, the guests are given light-up ribbon wands and everyone assembles outside in the dark waving their wands to send off the newlyweds!
Oh the photos that would create!
Plus, ribbon wands are super cool. And fun. Kids (and grownups) of all ages would have a blast with these wands.
And if your theme just happens to have a fairy tale twist, these would be perfect.
You can choose the ribbon colors, font style, and more with these personalized wands.
You'll find this fun wedding favor here.
Read More:
Fairy tale weddings
,
fun wedding favors
,
personalized ribbon wands
,
ribbon wands
,
ribbons