0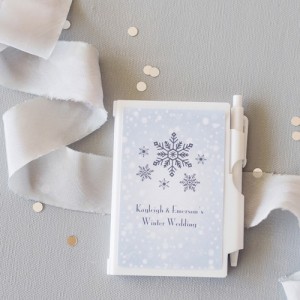 As we get closer to the holiday season – where making lists is essential – I found a great wedding favor that is super useful and fun!
Your guests will love these personalized notebooks, especially if they're tucked into a cute welcome bag for out-of-town guests.
These notebooks would also be a lot of fun for kids – if your reception is going to be kid-friendly. Each kid guest could get a notebook and some crayons and they'll be entertained for hours.
I also like the idea of putting baskets of these adorable notebooks near the door at the reception venue so guests could grab one or two on their way out.
The notebooks are a fun way to remember the good times at your reception.
You can find these personalized notebooks here.
Read More:
fun wedding favors
,
notebooks
,
personalized wedding favors
,
winter wedding favors
,
winter weddings