0
Posted on August 26, 2016 by Traci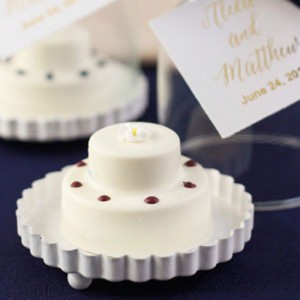 My love of the Oreo is no secret and whenever I find anything that combines Oreos and weddings…it's perfection.
We've featured Oreo favors and even an Oreo wedding cake before. Yes, a wedding cake made out of Oreos! Talk about a dream cake.
Today's favor is also a cake made out of Oreos, but these are mini, hand-decorated wedding cakes. The perfect favor – or special treat on a cookie or dessert bar.
The cakes are made with a milk chocolate or white chocolate base and, of course, Oreos. You can personalize them with your choice of colors and flowers.
Each cookie cake is packaged separately and tied with a ribbon that matches the colors on the cake.
You'll find these Oreo cookie cakes here.
Other Posts You May Enjoy:
Read More:
chocolate covered oreo cakes
,
fun wedding favors
,
mini wedding cakes
,
Oreos
Recent Posts