1
Posted on August 12, 2016 by Traci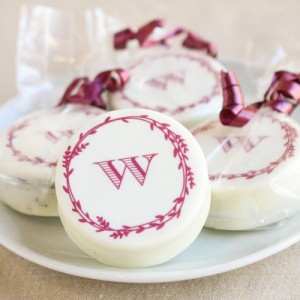 If I had to choose just one kind of cookie to eat for the rest of time, I think I'd have to choose the Oreo.
It really is the perfect cookie with a glass of ice cold milk.
And I love the idea of chocolate covered Oreos as an edible wedding favor!
These sweet treats are available in white or milk chocolate and they make the sweetest parting gift for your guests.
These would also be great for 'welcome bag' additions for your out-of-town guests.
The cookies have a little bit of elegance too thanks to the three monogram designs available  – these aren't your standard run-of-the-mill Oreos!
Each Oreo is individually wrapped in cello bags and tied with your color choice of ribbon.
You'll find this delicious favor here.
Other Posts You May Enjoy:
Read More:
chocolate covered Oreos
,
cookie favors
,
edible wedding favors
,
fun wedding favors
,
monogrammed favors
Recent Posts