0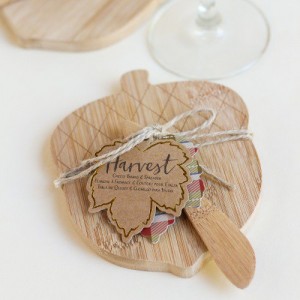 I recently visited a store that sells more than 125 varieties of cheese, so it's safe to say I love cheese.
And I also love fun cheeseboards that you can use at parties or on a regular Friday night when you have a hankerin' for some wine and cheese.
Which brings me to today's fun wedding favor – a really cute (and totally functional) acorn-shaped cheeseboard!
The bamboo cheeseboard is small – 4×5 inches – but it's the perfect little wedding favor for your fall wedding. It comes with a small spreader knife and it's all packaged with a very fall-ish plaid tag.
This is a fun wedding favor if you love fall, or cheese, or both!
You'll find this affordable and fun wedding favor here.
Read More:
acorn shaped favors
,
fall wedding favors
,
fun wedding favors
,
wine-inspired wedding favors