0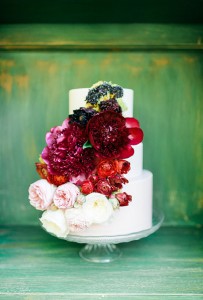 I love everything about fall – even the fact that, where I live fall means you pull out all the summer flowers. This is OK with me because I just replace them with colorful mums!
I love the dark hues of some of the mums and other fall-ish blooms that are perfect for this time of year.
And I also love seeing floral wedding cakes deep in the falls season. Just because the temps are cooler and the leaves are turning doesn't mean you can't add some colorful blooms to your wedding cake!
Today's featured cake is a great example of that. This three-tiered cake features some dark and dramatic flowers that make it the perfect fall centerpiece at your reception.
You could definitely play on the fall theme by adding some mums or even more dark roses. And with all those flowers you don't need anything other embellishment on the cake.
You'll find this fall wedding cake here. It was created by Earth and Sugar.
Read More:
dark flowers on cakes
,
fall wedding cakes
,
flowers on cakes
,
simple wedding cakes