0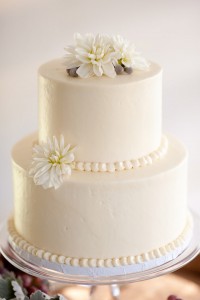 As much as I enjoy the occasional non-traditional wedding cake, for me it's all about going back to the basics.
A simple white wedding cake.
I love white wedding cakes in part because they are a great canvas for whatever you might want to add.
This time of year – late fall – I love seeing gorgeous white cakes adorned with fresh flowers in dark hues. Black Magic Roses, Gerbera daisies in dark red, anything that is dramatic!
White cakes are so versatile and can be elegant, whimsical, or just traditional. If you have a favorite flower ask your baker to incorporate it into the design of the cake. Or use the flowers from your bouquet.
Today's cake is simple yet elegant. Two tiers, smooth white icing, some pearl embellishments between the tiers, and some fresh flowers. It's clean and gorgeous and perfect.
You can find this cake here.
Read More:
cakes with fresh flowers
,
elegant wedding cakes
,
fall wedding cakes
,
fresh flowers
,
simple wedding cakes
,
white cakes
,
white cakes with flowers