0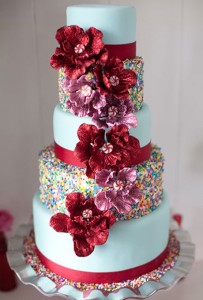 I'm not sure how I feel about today's featured wedding cake.
There's almost too much going on for one cake. I love the light blue icing and the sprinkle layers. I also love the deep red ribbons between tiers.
But the red flowers with peppermint candy centers? Those are pretty too. But put together – it just seems so busy at first glance.
However, in defense of the cake, I do like it. I'm just not sure it would work for many people. I think it would be lovely at a winter or holiday wedding.
Remove the peppermint candies and you could almost have it at a Fourth of July wedding. It is red and blue, after all.
I think I'd remove the flowers completely and go with the light blue cake with sprinkles and red ribbons. That would be a perfectly unique and lovely wedding cake.
What do you think?
You'll find this cake here.
Read More:
and blue cakes
,
blue and red cake
,
colorful wedding cakes
,
festive wedding cakes
,
red
,
sprinkle wedding cake
,
unique wedding cakes
,
white