0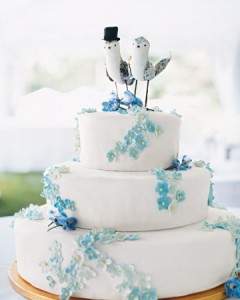 The weather in my neck of the woods is reminiscent of winter today, so I figured it was a good day to share a wedding cake that reminded me of ice and snow.
I absolutely love this cute little three-tier cake. I love the smooth icing and the fact that it's only three tiers. Keeping it simple is a great idea when it comes to wedding cakes.
But more than the size and simplicity of the icing, I adore the dainty blue flowers. I'm not usually a fan of blue – it isn't on my list of favorite colors. But these tiny blue daisies really made me perk up and smile. This cake makes me happy just looking at it.
I am also loving the cute little bird cake topper – the groom bird in his bird top hat is too perfect.
And because this cake features various shades of blue, I think it would be stunning at your winter wedding. The blue and white palette on this cake evokes thoughts of winter, ice, and all things frozen. And since no one would expect blue flowers and cute birds in the middle of winter why not do something unexpected and seasonally festive?
You can find this whimsical cake here.
Read More:
bird cake toppers
,
blue daisies
,
blue flower wedding cakes
,
blue flowers
,
blue fondant flowers
,
floral wedding cakes
,
simple wedding cakes
,
vintage bird cake toppers
,
wedding cake with blue flowers
,
white wedding cake