0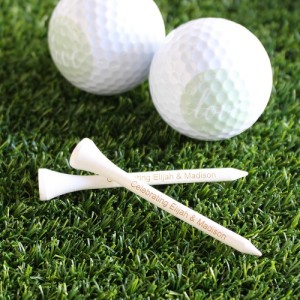 It's golf season and if you're a fan of hitting the links, today's favor is perfect!
If you've ever played golf you know how easy it is to run out of tees on the course.
So why not send your guests off at the end of the night with a fun bag of personalized tees?
And then each time they're ready to tee off they can think back to the great time they had on your big day.
These tees can be personalized with up to 30 characters, and you could put small bags together with the tees or set out baskets for guests to grab a handful.
Or, if you're hosting your reception at a country club, you could pair the tees with a sleeve of balls from the club's pro shop. That would be fun!
You'll find these tees here.
Read More:
golf favors
,
golf tees wedding favors
,
tees