0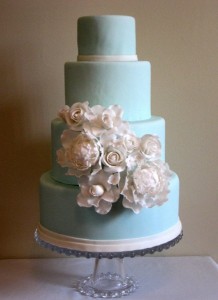 In these warm summer months I love looking for colorful wedding cakes that add a lovely pop of color to your dessert table.
Today's cake is a perfect shade of blue for summer – it looks like the sea or the sky.
And, it's also the color of a particular very popular jeweler. We all love getting boxes in this color, right! ;-D
This lovely light blue cake features four tiers of various sizes all in the same hue with delicate white piping between the tiers.
The burst of white blooms (sugar flowers we think) add the perfect touch of elegance to the cake.
This is a perfect summertime wedding cake!
You'll find this cake here. It was created by Sugar Petals Cakes.
Read More:
Blue Wedding Cakes
,
elegant wedding cakes
,
light blue wedding cakes
,
summertime wedding cake