0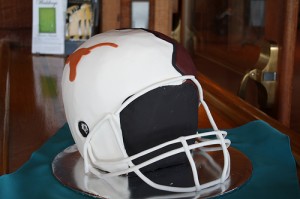 So you meet that wonderful man…the man of your dreams.  You fall madly in love.  There's just one problem:  He went to University of Texas – and you went to Texas A&M.
So, what's a girl to do?
A Cake Divided, that's what.  Hey – if you can't compromise on a groom's cake, then you should probably go ahead and hang it up. 
We love that this couple took a playful poke at their rivalry and found a harmonious way to work out the kinks.  We have no idea what flavors are used, or if that fondant was tasty.  We just love that we know a little about them just by seeing their cake.  This couple is clearly starting out the relationship right!
Are there ways that you and your Honey can bring both of your personalities to the pastries?  Do share below, please!
Read More:
football grooms cake
,
football helmet cake
,
football wedding cake
,
Texas A&M wedding cake
,
University of Texas wedding cake