0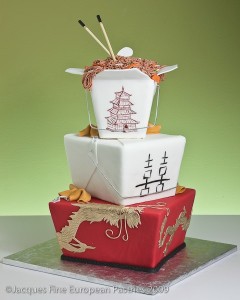 Omistars in Heaven Above.  (Haven't started out that way for a bit 😉  )
So, how fabulous is this positively adorable cake depicting a yummy-looking stack of Chinese takeout?  Would you not LOVE to know this story?  I shall imagine one for us.
The couple met and fell in love, and soon discovered they also shared a passion for noodles.
No.
The couple met when he delivered the noodles to the wrong door.
No.
Well, whatever the story, it's fantastically detailed and meticulously executed.  I mean, perfect, y'all.  There's nothing worse than a cake that's supposed to look like something else, and it misses the mark entirely.  This is not a cake such as that.
If you hanker for a Chinese lo mein takeout wedding cake, replete with gold dragons and fortune cookies – fortune cookies! –  check out Jacques Fine Pastries in New Hampshire, and prepare to be impressed.
Read More:
asian wedding cakes
,
chinese wedding cakes
,
gold wedding cakes
,
new hampshire wedding cakes
,
red and gold wedding cakes
,
red wedding cakes
,
sculptured wedding cakes