0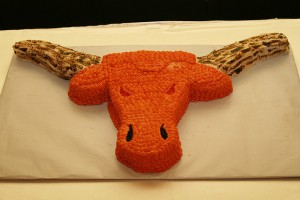 You mess with the bull..you get the horns.
True story in this case. I am not from Texas…so I am going to try my best to get this story right.
The couple who featured this University of Texas Longhorn Groom's Cake at their wedding did not in fact go to UT. An even odder twist is that they went to Texas A&M, which is a UT rival. Are you confused yet? Maybe if you're from Texas you aren't. However, if you are from the other 49 states, stay with me. Apparently this longhorn has a name, and that name is Varsity. In the Texas A&M Aggie War Hymn, which is the official fight song for the university, they refer to sawing Varsity's horns off. Well, the couple did just that at their wedding. They sawed Varsity's horns off with their Wedding Day Cake Cutter. Now I hope they won some sort of School Spirit Superlative for that.
If I have learned anything from this story, it's this:  Don't mess with Texans.  Or their groom's cakes.
Read More:
Aggie War Hymn
,
college mascot groom's cakes
,
college rivals
,
Don't mess with Texas
,
longhorn cake
,
longhorn wedding cake
,
texas a&m
,
texas a&m fight song
,
texas groom's cakes
,
university of texas
,
University of Texas wedding cake
,
Varsity