0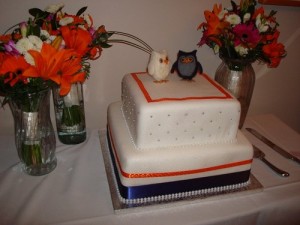 The more weddings and baby showers I go to lately (and that's a lot) the more I noticed Owls are hot year.  So appropriately I swooned over this adorable cake with an owl topper.
This yummy two tiered square cake gets a little pizazz by adding a strong navy ribbon and orange trim.  I wonder if they are Bronco's fans?  My husband would shake his head at that..but back to cake.  The adorable custom made black and white owl toppers add a little bit of flare to this traditional cake.  I think using the owls instead of the traditional bride and groom is too cute!
I hope the owls don't let the fame go to their heads.
Read More:
custom cake toppers
,
owl wedding cake topper