0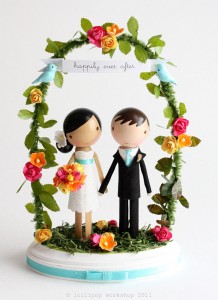 I saw this and I just had to share it with you.  It's precious and sophisticated.  I don't know how it's both, but it is.
The bride and groom with their sweet little painted hairstyles, holding hands, personify serenity, and really, don't you need a little serenity on your big day?  It's clear that the couple's wedding colors have been worked into the little outfits, as well as the bluebirds who are holding the banner.  And with a scroll that says "happily ever after" above their little heads…of course they are!
To view more of this whimsical (and custom!) works of art, please visit Lollipop Workshop's website.
Read More:
bride and groom caketoppers
,
caketoppers with arches
,
customized caketoppers
,
lollipop workshop
,
wooden cake toppers