0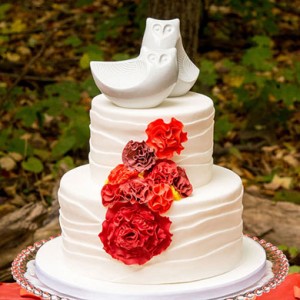 It seems that wedding cake toppers are not always the "in" thing when one is looking at wedding cakes on a daily basis.
Most of the time you'll see cakes with fresh flowers as the topper or nothing at all perched on top of the cake.
But I'm a traditionalist when it comes to wedding cakes (also known as "old fashioned") and I love a good wedding cake topper.
I'm not talking about the tried-and-true bride and groom topper (boring!) but something fun and whimsical.
Like two owls.
For some inexplicable reason I love owls. And this pair of porcelain owls perched atop a wedding cake would just be ideal at a shabby chic or rustic wedding.
They're adorable without being kitschy. And they would go with just about any traditional or modern cake design.
Long live the wedding cake topper!
You can find these porcelain owls here.
Read More:
cake toppers
,
owl cake toppers
,
rustic weddings
,
shabby chic weddings
,
wedding cake toppers