0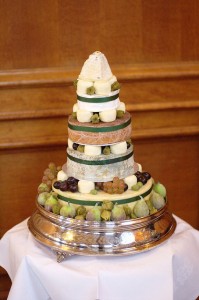 Did you know that there are some people out there who DON'T like cake?
I am not one of these people, however, I totally believe in the person's right to choose. Here's the conundrum..what if you're getting married..and you just don't like cake? Or you have certain health reasons that prohibit you from eating cake? Do you want to spend a good chunk of your wedding budget on something you can't enjoy? Probably not. So then you're left with either skipping it all together or coming up with some kind of compromise and that's exactly what this couple did when they came up with the Cheese Wedding Cake! And yes..you read that right..it's not a Cheesecake Wedding Cake..it's a "cake" of cheese!
We've mentioned this type of cake before, and I have to admit I love this! It's not something I would do at my wedding, because, hello — have we met? However, this is a great alternative for the cake haters of the world! This couple made a four tiered cheese wedding cake surrounded with fruits and displayed it on a gorgeous silver platter.
My only question is, do they save the top tier to eat on their first anniversary or do they just go out and buy another roll of cheese?
Read More:
cheese cake
,
cheese wedding cakes