0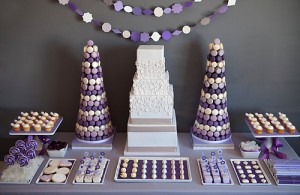 Purple, purple, purple!
So here is a fact.  Devoting an entire table to lollipops, cookies, cupcakes, macaroons, and cake at your wedding may in fact send one into a sugar shock.  Luckily, this particular photo is just a table set up by the talented Shauna Young for the Minneapolis/St. Paul Weddings Magazine Bridal Party.  The cake in the center is gorgeous with fun fondant flowers decorating the tiers.  I'm not even sure what those things are next to the cake.  I deduce that it's is a tower made completely of macaroons.  Oh my…goodness.
I also love this color combination of Lilac, Gray and Plum.  Apparently it's fun and fresh color combo week here on A Wedding Cake Blog (like the black and green I featured yesterday…today Lilac, Gray and Plum).  It's good to see new color combos popping up.  Seriously, I am so tired of green and pink.  I feel I can say that without offending the masses since my wedding colors were green and pink.
Check out Shauna Young's Flickr Stream for close ups of the table…and those cuppycakes!  Oh my.
Read More:
desert towers
,
flower wedding cakes
,
minnieapolis bakeries
,
minnieapolis wedding cakes
,
shauna young
,
st. paul bakeries
,
st. paul wedding cakes