0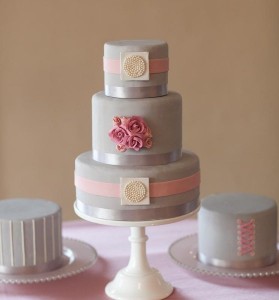 When you think about the perfect color scheme for a wedding cake, does gray often pop into your mind? No?
Well, it probably should.
I'm not talking about boring, dreary gray like the skies during a springtime rainstorm.
Nope. I'm talking about light gray accented with other colors including white and pink.
Take today's featured cake as an example.
This three-tier cake is the epitome of style with smooth gray icing, pearls, pink fondant wrapped around two tiers, and even shimmery gray ribbon. And let's not forget about the gorgeous spray of pink roses on the middle tier.
The cake is so gorgeous and elegant and perfect for your stylish day. Plus, the two side cakes are ideal as a groom's cake.
You can find this beautiful cake here. It was created by Erica OBrien Cake Design.
Read More:
elegant wedding cakes
,
gray and pink cakes
,
gray wedding cakes
,
summer wedding cakes