0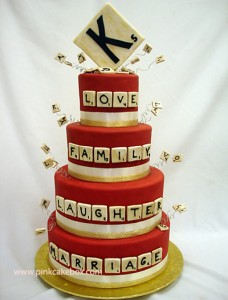 We've featured a Scrabble themed cake here before.  However, that cake was a literal representation of the game…representing the board and all.  This one is a little more subjective.  If you've been pinning away on Pinterest you have probably seen a high variety of Scrabble-themed stuff.  And stuff was literally the only word that could encompass the Scrabble-mania that has rocked the pinning world.  Scrabble art, Scrabble cookies, Scrabble blankets…it's amazing what you can do with those tiny letters.  I mean honestly…someone HAS to do something with them because have you ever played Scrabble?  BOORR–ing.
This cake takes the Scrabble-ness of it all to a sweet new level.The groom was stationed in Iraq and the couple used to play together online while he was away.  (Scrabble on the interwebs…not boring…because you can walk away, eat gummy bears, take a shower and paint your toe nails instead of sitting there, staring at your husband, just waiting for him to create the world's longest word, in order to trounce you and prove how big his brain is once again…or is that just me?)  This cake was created by The Pink Cake Box (who we have also featured here–and they take home Christen's award for most creative cakes).  The cake is covered in red fondant and decorated with scrabble tiles spelling out the words love, marriage, family, and laughter. You need at least two of those things in order to play Scrabble with your husband without killing him.
Visit the Pink Cake Box and their amazing gallery of wedding cakes right here!
Read More:
fondant wedding cakes
,
red fondant wedding cakes
,
red wedding cakes
,
scrabble
,
scrabble cakes
,
scrabble themed wedding cakes
,
scrabble wedding cakes
,
themed wedding cakes