0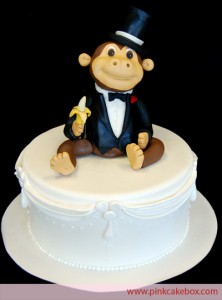 Brides generally fall into two categories when it comes to the groom's cake.
Category One: Of course I am getting a groom's cake, duh.
Or..
Category Two: What the heck is a groom's cake and why do I need one?
Well, I am here to dispel a myth–you do not need a groom's cake under any circumstance but there are a few reasons why you might want one. The main reason that brides seem to go with these days is to offer an alternative to the brides cake. However, with the cakes having the ability to be many different flavors a lot of brides are serving up their grooms cakes at the rehearsal dinner.  Some brides choose to cut the grooms cake up and send it home in adorable boxes as wedding favors. Another reason a bride might choose to have a grooms cake is  to throw a little bit of attention towards their hubby-to-be on a day when most of the attention is turned to the bride. Generally speaking grooms cakes are made to resemble something that the groom enjoys as a hobby. For example, if I was selecting my husbands groom cake I would probably choose: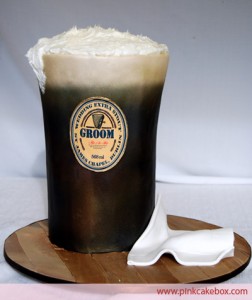 A beer shaped groom's cake like this one made by the pros at Pink Cake Box.
Is beer not your guys thing? Well how about a cheeseburger? It may look terrifyingly close to the real thing but never fear it's actually almond cake with mocha filling on the inside. I think my taste-buds might be totally confused when eating this one.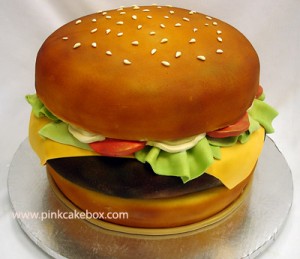 Another masterpiece from The Pink Cake Box.
In case you haven't picked up on it yet–groom's cakes are fun. Whatever fun shape you can dream up the bakers can probably do it and there is no limit on flavor.  You can pick anything from plain vanilla cake and chocolate buttercream or get creative and do a brownie cake.  It's pretty typical for brides to pick their grooms favorite flavor.  I mean..it is there cake after all. So whether or not you want one is entirely up to you but it does add a wee bit of fun to the wedding.
The history and the legends behind the grooms cake is actually what makes them intriguing to me. The grooms cake timeline can get a little fuzzy depending on who you talk to but most cake historians (now there is a job I want) and bakers trace the grooms cake back to the 19th century originating in the southern states in good old America!  Yeah for the south!  Sometimes..just sometimes..we do the right thing.  After awhile the grooms cake tradition spread across America and then eventually like slap bracelets and the Krimper its popularity faded.  Somewhere in the last ten to twenty years the grooms cake has made a resurgence in the American south and now its commonplace in most southern weddings.  We are big on tradition down here folks.
My favorite bit about the grooms cake isn't the history or the virtually limitless possibilities for the shape.  It's the legend of the grooms cake.  Legend has it that if a single female wedding guest takes a piece of cake and places it in a box and then places said box under her pillow she will dream of the man she is going to marry that night.    Now, I am not one to be skeptical but this seems..um..debatable.  However, I first heard this legend from my grandmother at my cousin's wedding when I was a young girl.  She was kind of my hero so I did spend the better part of my youth trying to convince my mother to let me sleep with cake under my pillow.
I never did..but even if I didn't dream of my groom you can be sure I would have eaten that cake for breakfast.
The grooms cake has gotten even more of a push lately by  making an appearance at the wedding of the century.  Yup, Prince William err…the Duke of Cambridge had one at his wedding to Kate Middleton back in April.  He featured this chocolate biscuit cake that Brooke, my frosting partner in crime, drooled over for a good month..or three.
Overall, the grooms cake is a great way to add a little bit of fun and show your hubby-to-be that "hey, even though this wedding is ALL about me you are pretty important too".
So what do you think?  Did you have a grooms cake?  Or is this just an outdated tradition that just adds extra cost?  Also, what is the craziest grooms cake you have ever seen?
The tuxedo monkey cake at the beginning of the post is amazing right??  Another gorgeous Pink Cake Box Cake like all the cakes featured in this post. Click on the link to browse their gallery of awesome grooms cakes.
Read More:
beer cake
,
grooms cake history
,
grooms cake. history of grooms cake
,
hamburger cake
,
monkey cake
,
Pink Cake Box
,
prince william grooms cake
,
royal wedding grooms cake