0
Posted on February 17, 2011 by Christen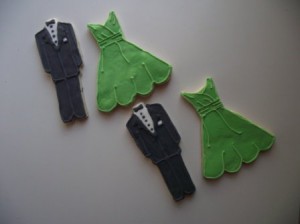 True story..I struggled with a way to figure out how to ask my Bridesmaids to be in my wedding.  I wanted a cute way to do it..but I just couldn't think of one.  Some ideas I did have?
A spa day..the problem..I was saving for a honeymoon..who had money for a SPA day?
A CD with songs that reminded me of them..the problem..I was not tech savvy.
So I ended up making a card with a cute little bride on the front and inside it said "Will you be my bridesmaid?"  Cute..yes..but nowhere near as exciting as I had wished.  When I saw these cookies by Amy Bakes I literally wished that I could hop in my time machine and go back and give these out instead.  (Fun Fact:  my bridesmaids also wore a green similar to that celery and most of them still speak to me).
These cookies were used to do just that.  A smart bride custom ordered them for her bridesmaids-to-be as a fun and creative way to ask them to be in her wedding party.  Now why didn't I think of that?  I have no idea if the tux cookies were used to ask the groomsmen but something tells me that they wouldn't be as appreciated as the bridesmaid cookies!  File this one under:  Ideas I wish I would have thought of.  Oh well!
The cookies and the photo were taken by Amy of Amy Bakes Everything.  A renaissance woman who turned her garage into a commercial bakery.
Other Posts You May Enjoy:
Read More:
bride cookies
,
bridesmaid cookies
,
custom made cookies
,
groomsmen cookies
,
tuxedo cookies
,
wedding cookies
Recent Posts