0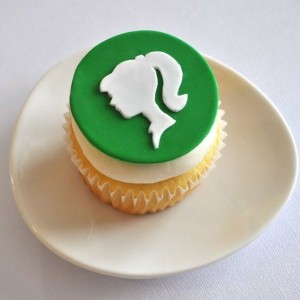 Sigh. I heart silhouettes.
I mean, they're right up there with monograms for a Southern girl, you know? So fabulous.  And the Kelly green background?  It's like a cupcake right out of Lillian Pulitzer, yes?
Okay…so maybe using your own silhouette (just you…no groom involved) may be just a leetle bit full-of-yourself-ish at your wedding, but we think this is a totally kickin' and completely adorable option for one of those fancy little parties that you, the bride, will be feted with en route to the altar.
We found this little niblet of perky cuteness on Pinterest, with a link back to an Etsy purveyor which, sadly, no longer exists.  However, we'd be willing to bet that if you took the idea to your favorite cupcakery, they could totally nail it.  It would also make a cute DIY project on a small scale, too, especially if you could find, say, a cameo cookie cutter.  To create your own, start with your favorite delicious cupcake, pipe a dollop of sumptuous buttercream, and top with a vibrant, cutout disk of fondant.  With a tiny dot of buttercream, affix your cameo cutout (or marry disk and cameo before adding to the cupcake.)  And voila!  Success.  Fabulous success.
Read More:
buttercream cupcakes
,
cameo cupcakes
,
fondant cupcakes
,
green cupcakes
,
kelly green wedding cakes
,
preppy wedding cupcakes
,
silhouette cupcakes
,
southern wedding cupcakes