2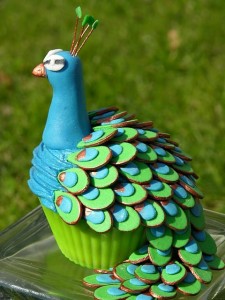 This is one of the the fanciest cupcake that I have ever laid my eyes upon.  I can't even imagine the work that went into this.  The amount of time it would take to make a slew of these for a wedding might be a little bit insane…however, I could totally see it as a big cupcake for the top of a cupcake tower…can't you?  Or maybe even a few of these peacock cupcakes amongst a bunch of teal cupcakes, like the one that makes up the body.
Either way I found this cupcake on Pinterest and I knew it must be blogged about.  The cupcake was inspired by another Peacock Cake that was made by Edith of No Ordinary Cake.  Her Peacock cake was made for family…just for fun when they were coming to visit.  You can pause and gasp here.  I did.
The feathers are made from fondant and hand painted bronze, teal and blue.  Again, can you believe this cupcake?  Do you love it as much as I do?  Can you believe that this wasn't made by a professional baker but someone who just bakes for family and friends?  I wish I were this talented with my hobbies!
Read More:
peacock wedding cakes
,
peacocks
,
teal cupcakes
,
themed cupcakes