3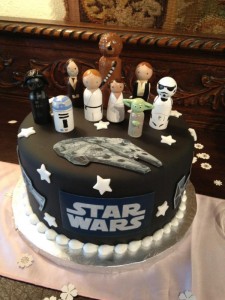 Oh. My. Star. Wars.  This cake by Anna Cakes of Winter Springs, FL is all kinds of amazing!
I grew up in a house filled with Star Wars.  My little brother was in elementary school when they released Episode I The Phantom Menace, and it played non-stop in our house for years. I swear I can probably still recite it to you. There may have also been a few epic light saber battles that went down in our kitchen (much to my mother's dismay).
So when I saw this cake I was in love! Anna of Anna Cakes had me at Yoda! I love the clean and simple feel of the cake even with everything that is featured on it. It is perfection that makes this nerdy girl quite happy!
And did I mention that this was for a wedding on May 4? As in "May the 4th be with you!"
Read More:
anna cakes
,
central florida bakers
,
grooms cake
,
movie theme cakes
,
Star Wars Cakes
,
star wars grooms cake