0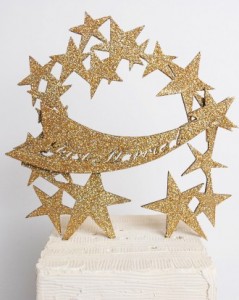 Since we're just a little more than a week away from Christmas I wanted to find something that seemed a bit festive.
I think this gold, sparkly starry cake topper does the job.
I'm a big fan of non-traditional cake toppers and honestly I find the "bride and groom" toppers a tad boring. Sure I had one on my cake but that was all the rage back in the day.
If you can add something totally unique and even personal to your cake, then I say go for it! Find a topper that is perfect for you and your significant other and if it's a little (or a lot) different than the 'norm'…well I say that makes it even better.
I love this sparkly gold star topper because it's fun and a bit glamorous and it's so sparkly! Plus, the stars lend it that festive holiday feel that you're looking at this time of year.
And since it's gold it really would match just about any color palette – if you're trying to keep things coordinated.
We found this starry cake topper here.
Read More:
cake toppers
,
gold cake toppers
,
holiday wedding cake toppers
,
sparkly wedding cake toppers
,
star cake toppers