0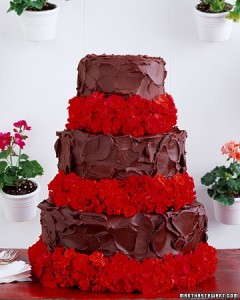 Ya know, when I started cleverly calling my groom's cake posts – normally on Saturdays –  "For the Guys," I was only half serious.  Sure, sometimes you have a groom that really wants a groom's cake that represents, and that's when you'll find a Star Wars or X Box, or sports team-themed cake.  Sometimes, you'll have a groom's cake that just represents a shared interest of the bride and groom.  And sometimes, the groom gets no say, or actually likes elegance (it happens!) – and that's when you end up with a cake like this.
Rustic charm, homespun recipe, flowers that can come from your backyard…this is a great cake.  The big bands of flowers make a petite cake look larger, and the swirly frosting might remind your guy of cakes at grandma's or from July 4th picnics of yesteryear.  The flowers – I love them!  – are common.  You aren't getting these from a hoity toity florist.  They are adorning hanging baskets and planter pots all around your verandah during the lazy, hazy, crazy days of summer.
For a fun spin on this cake, I could totally see you using carnations in place of geraniums.  Both are edible, and carnations are cheap!  They're also old-fashioned and slightly out of vogue, which, by vintage standards, makes them TOTALLY HOT!
What do you think of this laid back cake, perfect for anytime of the year?  Leave us a comment and let us know!
Read More:
chocolate grooms cakes
,
devils food cake
,
devils food cake grooms cake
,
edible flowers
,
geraniums
,
homestyle frosting
,
red grooms cakes
,
summer grooms cakes
,
swirly frosting